Boomerang is a 24-hour American cable television channel owned by Turner Broadcasting System, a division of WarnerMedia (formerly Time Warner). Boomerang spun off from a block of the same name from Cartoon Network;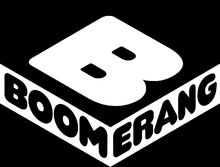 it debuted as a channel on April 1, 2000.
The channel originally specialized in reruns of animated programming from Time Warner's extensive archives, including pre-1986 MGM, Hanna-Barbera, Cartoon Network, Warner Bros. Animation, and DePatie-Freleng Enterprises programs, spanning from cartoon shorts of the 1930s and 1940s (usually in color) to repeats of shows which were still in production on Cartoon Network.
The American version of Boomerang was relaunched on January 19, 2015 as part of a global rebrand, focusing on original material based on popular brands in addition to vintage programming.
In the U.S., Boomerang also includes a subscription service-based mobile app, which launched on April 11, 2017.