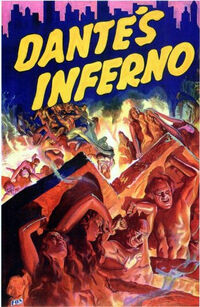 Dante's Inferno
 is a 1935 motion picture starring Spencer Tracy and loosely based on Dante Alighieri's 
The Divine Comedy
. The film remains primarily remembered for a 10-minute depiction of hell realised by director Harry Lachman, himself an established post-impressionist painter. This was Fox Film Corporation's last film when the company merged with Twentieth Century Pictures Inc, to 20th Century Fox.
Plot
Jim Carter, a former stoker, takes over a fairground show, run by 'Pop' McWade, which depicts scenes from Dante's Inferno. He marries Pop's niece Betty and they have a son, Alexander. Meanwhile, the show becomes a great success, with Carter making it larger and more lurid. An inspector declares the fair unsafe but Carter bribes him into silence. There is a partial collapse at the fair which injures Pop. Recovering in hospital, he admonishes Carter and we see a lengthy vision of the Inferno. Undeterred, Carter establishes a new venture with an unsafe floating casino, only for disaster to strike again at sea.
Community content is available under
CC-BY-SA
unless otherwise noted.