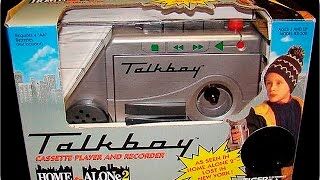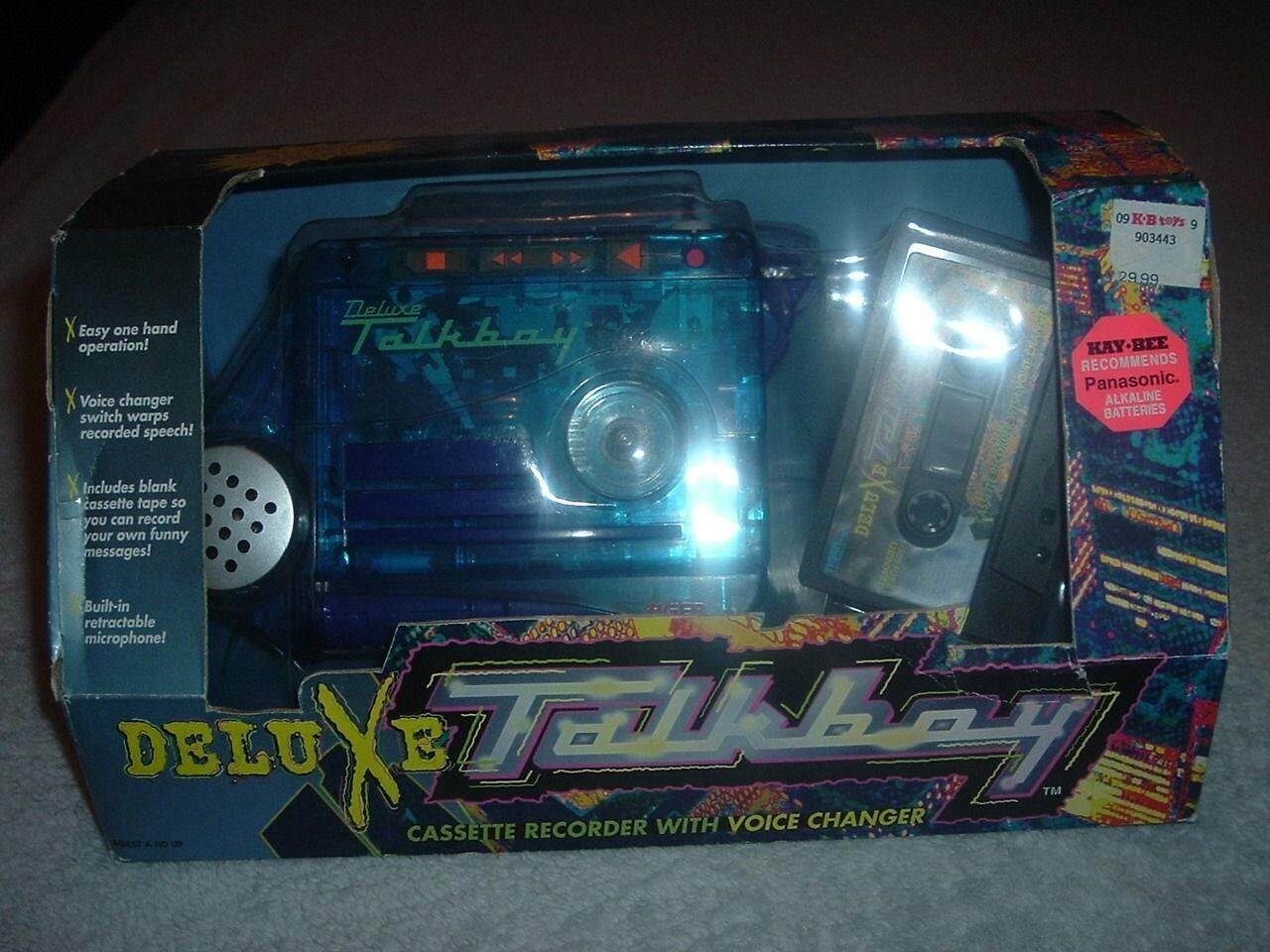 The Talkboy is a portable variable-speed cassette player and recorder manufactured by Tiger Electronics (now owned by Hasbro) in the early 1990s.[1] It was originally conceived as a non-working prop for the 1992 movie Home Alone 2: Lost in New York, used by the main character Kevin McCallister (Macaulay Culkin). A fully working retail version based on specifications provided by John Hughes and the movie studio[2] was available at Toys "R" Us on November 20, 1992, the day Home Alone 2: Lost in New York was released nationwide in the United States.The original Talkboy model released for the 1992 holiday shopping season came in Home Alone 2 themed packaging with Kevin McCallister pictured on the front of the box using the Talkboy to record. The original model consists of a battery-powered handheld cassette player/recorder with an integrated monophonic speaker, grip handle, and an extendable microphone. The main controls are similar to other portable cassette devices, with play, stop, fast-forward, rewind, and record functionality.
Several spinoff versions of the device were produced, including:
Deluxe Talkboy, released after the original consumer model Talkboy, the Deluxe Talkboy is nearly identical in appearance and function to the original model. The Deluxe Talkboy added a "Slow Playback" feature, which enabled users to manipulate the recording and playback speed, and in turn the pitch of the recorded sound, acting as a simple voice changer. This feature emulated Kevin McCallister's use of the Talkboy in the film, such as the scene where Kevin places reservations at the Plaza Hotel over the phone by using the Talkboy to modulate his voice to sound deeper and more convincing as an adult. The user could toggle between normal and slow playback speed using the red thumb switch which also operated the Power On/Off. The "Slow" feature used a slowed-down recording/playback speed of 76% and a sped-up speed of 130%. Deluxe Talkboy also added the word "Deluxe" above the "Talkboy" logotype to differentiate between models, and placement of the

headphone jack

was marginally relocated. The Deluxe Talkboy came packaged with a cassette tape, one side of the tape is initially blank for the user to record with, and the other side is write-protected and featured various lines and sound effects from Home Alone 2.
Talkgirl, a pink-colored Talkboy, marketed toward young girls. The toy was recently featured in a key scene in the second season of the TBS series, Search Party, in which April blackmails Dory and her friends by recording an incriminating conversation on her Talkgirl.[3]
Talkboy FX Plus, a writing pen with a built-in recorder and six buttons that play sound effects.
Talkgirl FX Plus, a pink version of the FX Plus.
Talkboy Jr., a pocket-sized version of the Talkboy which uses internal memory rather than cassette tapes.
Talkgirl Jr., a pink version of the Talkboy Jr.
v - e - d

Songs
Somewhere in My Memory

•

My Town